Membership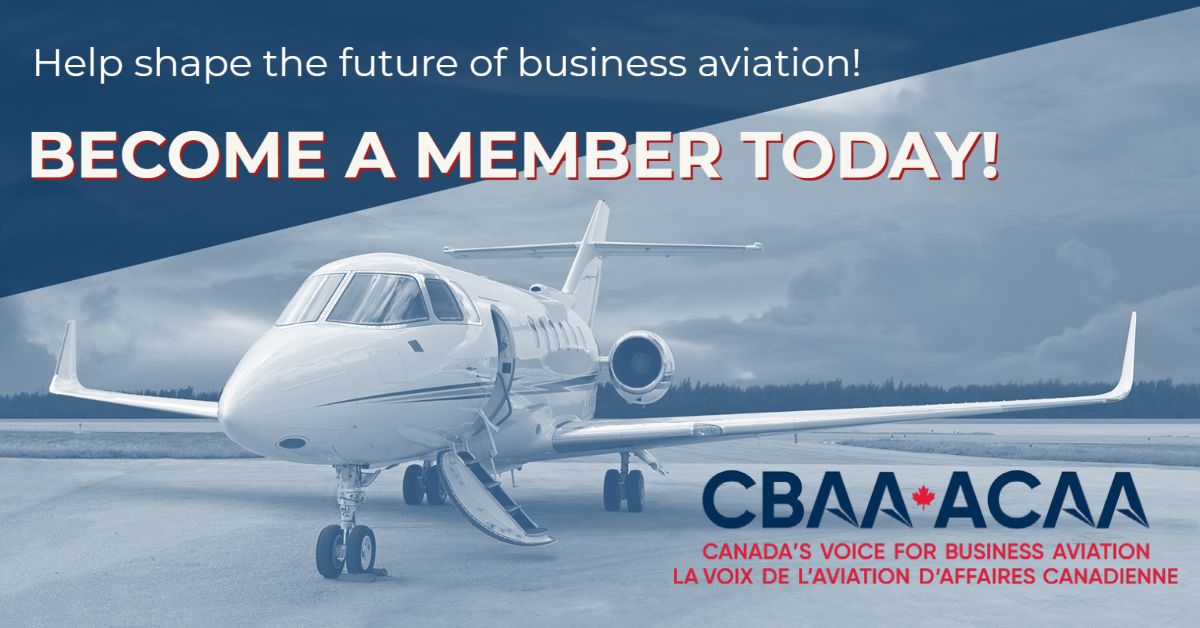 Please click on the appropriate plan below. The menu will expand and show the benefits assocaited with each plan. Once you have read through the belefits, please click on the link at the bottom of the section to join!
Operator Benefits
Access to CBAA Industry and Regulatory Experts
CBAA Member Flight Ops Group

Stay current with real-time government updates and regulatory changes
Download the latest documentation and information from Transport Canada and other regulators
Including information, briefings, documentation and updates on regulations and
exemptions available only for CBAA Members
Ask questions and exchange ideas directly with other pilots, flight directors and SMEs
Partners in Safety Program – A suite of implementation and compliance tools
SMS designed for 604 operations

Downloadable Resources for operations of all sizes

Risk Management System (RMS) a tool available at no charge to operator members which is used to upload confidential data and create hazard registry and trend reports from pooled and de-identified data. This includes:

Online Training

Two Sample Operations Manuals (OM) including a QA audit manual and checklists

Small corporate operators

Owner-Operators
CBAA Delegations
Fast and efficient processing of Initial Type Ratings for both Single Pilot/High Performance and Two Crew
Advocacy
Lobbying to government on policies and programs that support your operations

Stopping the luxury tax on aircraft
Pre-budget submission to the department of finance
Implementation of a federal SAF strategy
CBAA Events
Annual Business Aviation Convention

All Operator member companies receive one complimentary full convention registration

Includes access to educational sessions, Exhibit hall and Static Display

Additional member-only discounts

Invitation to CBAA Member Update Events (Virtual and In-person)

Industry relevant guest speakers
Networking opportunities
Complimentary Subscriptions
Wings Magazine
Skies Magazine
CBAA's Weekly E-news Bulletin
Operator Fee Levels
Applicant shall be an enterprise or individual which owns or operates Canadian-registered aircraft as an aid to the conduct of their business.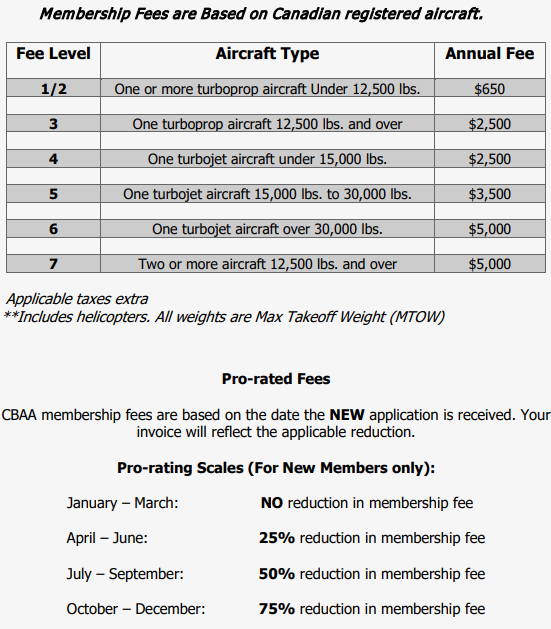 YOUR MEMBERSHIP MATTERS, JOIN TODAY!
Associate Benefits
Industry Partnership Program
Associate members - advertise to the business aviation community! This is a complimentary
offering for members in good standing. To participate as an Industry Partner we ask that your
company offer CBAA members a discount or special offer/benefit.
Participation makes you eligible for selection as "Feature Partner".

Logo display on CBAA's homepage slideshow
Showcase in CBAA's weekly e-news bulletin
Acknowledgement on CBAA's social media channels
CBAA Annual Convention & Exhibition
Receive discounted pricing for Canada's largest business aviation exhibit and static display.

Discounted Exhibit pricing

Discounted registration costs
Company Announcements & Press Releases
Publish your press releases and important company announcements in CBAA's website news
and within our weekly e-news bulletin.
Company Listing in CBAA's Online Member Directory
Put your name in front of the business aviation community year-long with a complimentary
listing in CBAA's online member directory

Full company listing
Listed under selected business categories
Complimentary Subscriptions
Complimentary magazine subscriptions for:

Wings Magazine
Skies Magazine
CBAA's Weekly E-news Bulletin
Invitations to CBAA's Cross-Canada Meetings
Associate Fee Levels
Applicant shall be an enterprise whose business is involved with business aviation activities.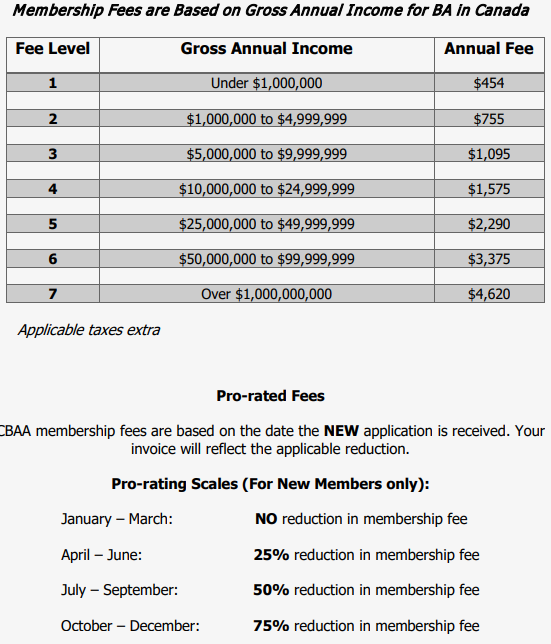 YOUR MEMBERSHIP MATTERS, JOIN TODAY!
Applicant shall be an enterprise* which owns or operates aircraft which are exclusively registered in a nation other than Canada.